Hollywood Diets
Lose 10, 20, 30 , 40 pounds or more on the same diets the star use!
The National Enquirer du 15 janvier 2002 p.19

Sujet: Cette année, c'est la bonne!
On peut y voir et lire:
En page 18, on peut y voir une publicité d'un produit amaigrissant : PINNACLE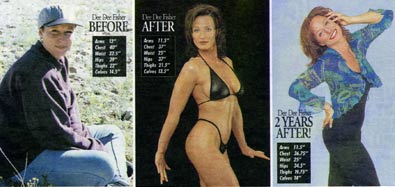 En page 19, le début du spécial et on peut y lire :
In this 36-page pull-out section, you'll get the skinny on Hollywood's most popular diets, including the Atkins Diet, The Zone diet and even the raw food diet. And in an amazingly candid interview, Carnie Wilson bares her soul about her lifelong battle with obesity - and reveals how she lost half her body weight.
En page 20 et 21 l'histoire de Carnie Wilson et on peut y lire :
In the spring of 1999, I weighed 298 pounds," confesses 5-foot-3 singer Carnie Wilson...
Today, after undergoing radical gastric bypass surgery, the 33-year-orl daughter of the legendary Beach Boys vocalist Brian Wilson has dropped 153 pounds - and now weighs a svelte 145 pounds.
Carnie, who's chronicled her battle of the bulge in her book, "Gut Feelings."
Her parents divorced when she was 12 - and from then on, Carnie was constantly on a diet.
She's less than half the woman she used to be - And now to keep it off :
Carnie now consumes 1000 to 1500 calories a day, compared with 2000 to 5000 calories before her surgery.
She fellows four guidelines :
- Eat protein first.
- Exercise regularly.
- Don't snack
- Drink at least 64 ozs. of water a day.
"If I follow four out four I lose weight," she says. "If I follow three out of four I maintain my weight," Anything less and I gain weight."
"I have to be very strict", she says. "I have to take my vitamins, and I have bloodwork every six months.
En page 22, l'histoire de Kate Winslet et on peut y lire :
What a difference! New mom Kate slimmed down from a titanic 182 pounds 9avove) to a svelte and sexy 133 pounds.
...she felt she'd lost the battle the battle of the bulge.
The new mom finally righted her ship, using an obscure Oriental practice known as facial analysis to burn off the pounds - ...
Titanic star Kate Winslet looked titanic herself after delivering daughter Mia - and ballooning to a whopping 182 pounds!
Kate underwent four weeks of intense detoxification.
En page 23, on peut y voir une autre publicité d'un produit amaigrissant :

En page 24, l'histoire de Diane Sawyer et on peut y lire :
Before Diane before she started slimming down.
After slinky, sexy Diane dropped the pounds with the help of a diet rich in healthy fruits and vegetables.
The ABC hostshot fell victim to long hours and bad eating habits, piling 25 pounds onto her 5-foot-10 frame over several years.
But the former beauty queen beat the battle of bulge with a simple diet-and exercise regimen cooked up by a colleague!
Sawyer, 56, admits she weighed close to 160 pounds when she met personal trainer Jim Karas on a "GMA" project.
..author of "The Business Plan for the Body" -
At a newly slim 130 pounds, Diane feels great.
En page 25, on peut y voir une autre publicité d'un produit amaigrissant :
Body Success PM Diet Program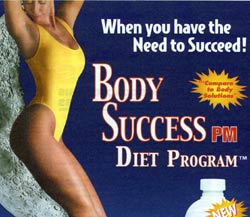 En page 26, l'histoire de Luther Vandross et on peut y lire :
R&B Balladeer Luther Vandross has lost more than 100 pounds - 13 different times!
But this time around he's finally won the battle of bulge.
En page 28, informations sur la méthode Dr.Atkins et on peut y lire :
Who: Whoppi Goldberg, Catherine Zeta-Jones, Stivie Nicks, AL Gore. Following a modified Atkins Diet, "NYPD Blue" cop Dennis Franz lost 35 pounds.
What: Developed by cardiologist Dr. Robert Atkins in the early 1970s, the Atkins Diet is a high-protein, high-fat and very low-carbohydrates.
Negatives : The American Dietetic Association recently condemned high-protein diets as dangerous - calling them "a nightmare of a diet."
A large body of scientific evidence shows that high-protein foods dramatically increase the risk of breast cancer, prostate cancer, heart disease and many other illnesses. High protein diets can also cause bad breath and body odor.
En page 29, on peut y voir une autre publicité d'un produit amaigrissant :
HYDROXYCUT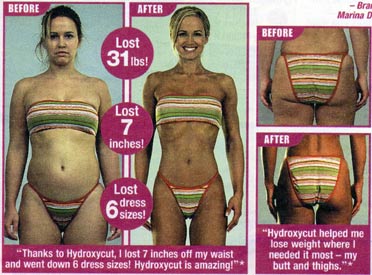 En page 30, informations sur la méthode The Carbohydrate Addict's Life Span Program et on peut y lire :
Who: Oprah Winfrey, Rosie O'Donnell and Demi More
Negatives: The diet can be restrictive, as Oprah discovered. and there's no valid scientific information supporting the concept of carbohydrate addiction. "Scientific evidence doesn't really support their claims about insulin and weight gain," says Tufts University nutritionist Randi Konikoff, who adds, "Its pretty restrictive. Telling someone that they can only eat a certain kind of food once a day is unrealistic. It encourages you to fall off the wagon."
En page 32, informations sur la méthode Mastering the Zone et on peut y lire :
Who: vers la liste
What : 40 percent complex carbohydrates, 30 percent protein an 30 percent fats.
Specifics : The Zone encourages reducing sugars, breads and starches, while eating more meat and vegetables.
Negatives: There's nothing magical about The Zone. "The recommended diet in the book has about 850 calories a day. Anyone who eats 850 calories a day is going to lose weight whether they're in "the zone! or not!". points out Dr. Donald Hensrud, a physician nutrition specialist at the Mayo Clinic in Rochester, Minn.
Other critics say insulin is necessary to life. It removes glucose from the blood and transfers it into the body's cells. Adds Bonnie Liebman, director of nutrition at the Center for Science in the Public Interest: "There's no evidence taht high levels of insulin make you fat."
En page 34, informations sur la méthode Raw Uncook book et on peut y lire :
Who: Angela Bassett, Woody Harrlson, Barbara Streinsand.
Specificics: Raw foodists eat only uncooked, unprocessed fruits, vegetables and seeds. Totslly tabou are meats fish, eggs, dairy and animal products. Other big no-nos include coffee, tea, beer, ...
Negatives : "I don't think there's a lot of scientific basis for what they're saying," said Rebecca Reeves of the Baylor University nutritional research clinic in Houston.
En page 35, on peut y voir une autre publicité d'un produit amaigrissant :
4 YOUR HEALTH BODY SCULPTING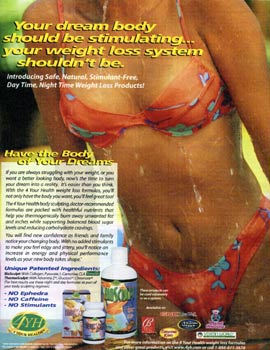 En page 36 et 37, des recettes tirées du livre Picture Perfect Weight Loss 30 day Plan:
En page 38, informations sur le moyen de perdre du poids grâce à l'hypnose avec le Dr Bruce Goldberg:
En page 40, informations sur une diète au chocolat The Chocolate Lovers' Diet:
En page 4, informations sur la méthode Diet Step 20/20 For women only! de Fred A. Stutman, M.D.: Une diète riche en fibre et faible en gras.
En page 45, on peut y voir une autre publicité d'un produit amaigrissant :
Les gélules de vinaigre de cidre : Allez voir en bas ce cette page.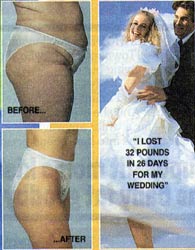 En page 48, l'histoire de celles qui sont devenues anorexique à l'aide des diètes et on peut lire et voir:

Portia de Rossi of "Ally McBeal
Crossing the thin line : "Live with Regis" co-styar Kelly Ripa struggled through a devastating anorexia nightmare before her second pregnancy. The perky 5-foot-4 blonde dieted down to a stick-thin 85 pounds. "I always thought slender, " Kelly, 31, told a pal.
En page 50, informations sur un camp d'amaigrissement et on peut y lire:
Julia Roberts couldn't hack it. Oprah Winfrey was reduced to tears. But Shirley MacLaine raved about it.
Those are the reactions of some of the stars who have been to The Ashram, a California weight-loss spa that's so tough it's known as "Hell Camp."
The Ashram charges guests a whopping $3,300 for a week-long experience of daily 15-mile hikes, exercise and a paltry 800 calories a day, mostly vegetarian diet.
Guests have an hour of water aerobics in the pool, another hour of weight training followed by a massage,...
"But I was told by one of the staff that Julia Roberts left after two days because it was too tough for her.
"Poor Oprah Winfrey almost didn't make it either. By the end of the week she was reduced to tears. She was begging the staff to let her have some extra food!"
En page 51, on peut y voir une autre publicité d'un produit amaigrissant :
Natures Bounty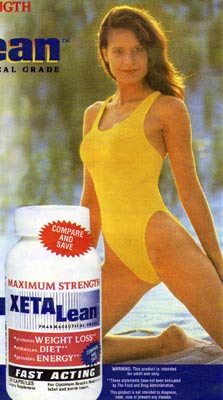 Les autres publicités de produits amaigrissants dans ce numéro du National Enquirer en dehors du spécial perte de poids :
En page 15, une publicité plein page de produits de remplacement de repas Scan Diet
En page 55, une publicité de support téléphonique pour aider les femmes à persister dans leur diète à 4$ la minute ??? :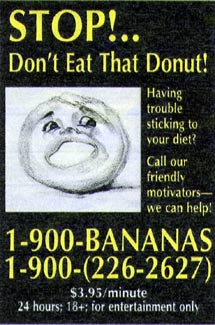 En page 61, une publicité demi page de produits pour jeûne aux protéines Medifast
En page 64, une publicité d'un livre pour faire des exercice pour obtenir un ventre plat : United Research pubs
En page 69, une publicité plein page d'un appareil pour stimuler électriquement les muscles : FastAbs
Mon commentaire
Le mois de janvier est le mois des résolutions. Le mois, où beaucoup de femmes décident de débuter une diète. Elles se disent, "cette fois ci, je dois une fois pour toutes perdre mes kilos superflus." C'est la résolution la plus répandue chez les femmes et en même temps celle la plus irréalisable et irréaliste qu'elles peuvent faire. En effet, il est virtuellement impossible de ne pas reprendre le poids perdu. C'est toujours à recommencer. Et ce recommencement tombe toujours au mois de janvier.
C'est donc aussi le mois le plus payant pour l'industrie de l'amaigrissement. C'est pourquoi, on nous inonde de publicités de méthodes d'amaigrissement et de spéciale minceur de nos vedettes dans les journaux à potins à chaque année au mois de janvier.
C'est le mois du masochisme, comme il y a la semaine des secrétaires. C'est un mois qui ressemble au ramadan des musulmans et le temps du carême avant pâques chez les catholiques. Une période de privation afin d'expier ses péchés par la souffrance. Un genre de punition que les femmes doivent s'infliger pour avoir eu du plaisir à manger durant le temps des fêtes.
L'amaigrissement est une religion commerciale.
En gros, pour résumer cette histoire, les éditeurs font un spécial minceur n'ont pas pour plaire aux femmes, mais bien pour plaire à l'industrie de l'amaigrissement. Ils leur donnent une occasion de maximiser l'impact de leur publicité qu'ils achètent dans leur revue ou leur journal.
En réalité, la perte de poids n'est pas un sujet qui fait tripper les femmes. En effet, se priver de nourriture, c'est loin d'être quelque chose plaisant. Ce n'est pas avec joie qu'une femme décide faire une diète, c'est pas avec joie qu'une femme décide de tolérer une niveau de souffrance élevé dans le but de perdre du poids.
Le rite du régime amaigrissant, constitue une punition que la femme s'inflige. Se faire violence, c'est loin d'être réjouissant.
Ce journal à potins a un brin d'honnêteté intellectuel lorsque, dans la description de 4 des régimes, il énonce des arguments contres (négatifs), lorsqu'il parle des femmes dont les diètes les ont amené à l'anorexie et par leur traitement en générale de ce dossier qui est critique et non racoleur. En d'autres mots, il n'est pas positif à 100 pour 100 pour ces régimes, il a un recul. (Ce n'est pas une info-pub déguisée.)
Ce qui en est autrement au Québec. Ainsi, quand le Lundi parle d'un régime, il est racoleur. Il en parle sans signaler les arguments contres. Les journaux à potins du Québec sont achetés par l'industrie de l'amaigrissement.
Par contre, l'Inquirer est moralisateur : quand il parle que les femmes qui maigrissent, deviennent plus sexées, quand il parle que les femmes qui réussissent à perdre du poids ont réussi à se guérir de leur boulimie. En d'autres mots, que les femmes qui ne sont pas minces, c'est de leur faute, elles ont une trouble alimentaire, elles mangent trop, elles sont incapables de se contrôler.
L'Inquirer présente les femmes artistes comme des modèles de vertu, parce qu'elles ont réussi à perdre du poids. Ce qui a pour effet, d'encourager les femmes à persister dans leur obsession de la minceur. Il leur dit "Mesdames allez y, c'est à vous maintenant d'essayer de perdre du poids. C'est un incitatif puissant. Les femmes seront portées à choisir une méthode ou des produits pour perdre du poids qu'on leur présente dans ce journal. C'est comme cela que l'industrie de l'amaigrissement entretient leur marché.
Pour finir, dans l'histoire de Carnie Wilson, nous apprenons des choses qui appuient ma position contre le brochage d'estomac. Ainsi, quand elle nous parle des 4 affaires qu'elle doit suivre pour ne pas réengraisser. Nous apprenons aussi, que cette opération la place sur une diète à 1200 calories et que c'est ce qui l'a fait maigrir.
Donc, sa perte de poids n'est pas coulée dans le ciment. Elle peut reprendre du poids, si elle ne surveille pas ce qu'elle mange. En d'autres mots, que le brochage d'estomac n'est pas un miracle. Si cette opération serait vraiment une solution, Carnie n'aurait pas à faire des efforts pour maintenir son poids. Donc, nous pouvons affirmer que le brochage d'estomac constitue une mutilation physique inutile.
De plus, dans ce spécial perte de poids, on signale que le jeûne aux protéines ou la diète avec beaucoup de protéines est dangereux. Et on signale que le niveau d'insuline dans le sang n'a aucun rapport avec le fait d'engraisser ou de perdre du poids. Ce qui discrédite l'argument de Montignac.
---
Les sujets précédents :
La rondeur dans l'actualité des mois passés