Carnie Wilson's Plastic Surgery Diary
People, 17 June 2002 page 96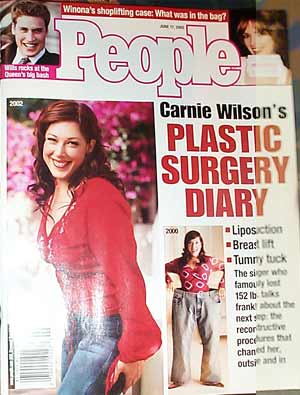 Sujet: Rêve ou cauchemar
On peut y lire:
Finishing Touches
Dropping half her weight, Carnie Wilson found, was just half the battle. So she had a new round of surgery, losing the last of her old body and gaining a new attitude.
By all appearances, Carnie Wilson was feeling on top of the world. Seventeen months after her 1999 gastric bypass surgery, the 5'3" singer had dropped from 300 lbs. to a trim 148 and was flaunting her new shape everywhere -- including the Jan. 15, 2001, cover of PEOPLE. Married since June 2000 to a handsome musician, Rob Bonfiglio, she had settled with him and their three dogs in a Spanish-style villa outside L.A. She had a well-received memoir, 2001's Gut Feelings, under her belt and was planning an album with her pop group Wilson Phillips -- their first since 1992. But Wilson, 34, wasn't celebrating. "I felt like a snake that was shedding its skin," she says. "I was trying to wiggle out of it and emerge as this new person, but the skin was still hanging on."
She means that literally. Though the former size 28 could now pluck 8s and even the occasional 6 off boutique racks, her epidermis hadn't gotten with the program. "I had skin hanging from underneath my armpits; my breasts were hangy and ugly," she says. "I would lie in the bathtub and my stomach would float to the top of the water." With the help of a bodysuit, she could fit into the sexy outfits she had dreamed about, but she cringed at how some of them looked. "I avoided sleeveless clothes and anything that would show my stomach," she says. "I felt grossed out by my own body."
So on Jan. 31, 2002, Wilson took her lifelong battle with the bulge one step further. In an eight-hour operation performed in the Beverly Hills office of plastic surgeon Dr. Steven Zax, she had the skin on her tummy tucked (leaving her lighter by 7 lbs.), her belly button repositioned, breasts lifted and minor liposuction on her torso and hips. Zax also cut away half a pound of skin from under each armpit. Approximate cost: $20,000 (none of which insurance covered). "When I woke up, I couldn't believe it," says Wilson, whose husband, mother Marilyn Wilson-Rutherford, 54, and sister Wendy, 32, spent the eight hours in Zax's waiting room and were there when Wilson awoke. "I've never looked down and not had a belly in my entire life! It felt incredible."
Deciding to go ahead with the procedure, which up to 20 percent of gastric bypass patients ultimately opt for, wasn't easy. Wilson knew it would be beneficial medically -- the overhanging skin on her stomach, says Dr. Alan Wittgrove, who performed her bypass surgery, "was giving her a rash." But unlike the first operation, which she underwent because obesity was threatening her health, "this was elective," she says. "I was cutting my body open, and I was doing it because I wanted to! I was terrified."
Although she came through fine, the experience did have its rough spots. "Afterwards I had no pain, but I was stiff," says Wilson, who spent two postop nights being monitored in a local medical facility. "My stomach was pulled so tight I could barely walk at first." For the next eight weeks she wore a tight girdle around her stomach to protect her stitches, as well as a support bra day and night. Luckily the eight hour-long sessions of hyperbaric oxygen therapy prescribed by Zax and administered (at $250 each) in a cylindrical Plexiglass chamber, kept bruising to a minimum. Though her abdomen, breasts and armpits were marred with dark brown scars that will take 10 months to fade, by mid-April Wilson was exultant. "It's so fun to be proud when you're stripped down," she says. "Now I can wear so many things!" Her husband, who supported this latest step in her transformation, was thrilled as well. "It's like the caterpillar-to-a-butterfly thing with Carnie," says Bonfiglio, 34. "I loved the caterpillar, but I love the butterfly more."
For Wilson, the caterpillar years started early. The daughter of Beach Boy Brian Wilson, 59, and his wife, Marilyn, now a real estate agent, she was a chubby little girl, weighing in at 110 lbs. by age 9. "Whenever something bad happened, I ate," she says. "I always used food when I felt lonely or sad."
Her weight didn't bother her much until she hit the spotlight in 1990 with Wilson Phillips, the vocal group she formed with her sister and pal Chynna Phillips. Their self-titled first album produced three No. 1 singles, but the pressure of performing onstage and in videos with her two slender bandmates took its toll. "The record company wanted us to be sexy," recalls Wendy. "It was hard for Carnie."
By the time Phillips left the band in 1992 to pursue a solo career, Wilson's weight had soared to over 240 lbs. After a failed run as a talk show host and a flop album with Wendy, Carnie took up acting, but jobs proved hard to come by. In May 1999 she topped out at 300 lbs.
She began considering gastric bypass surgery after TV's Roseanne, who had the procedure in 1998, suggested it when Wilson was a guest on her show. The 90-minute operation, which was broadcast live on the Internet to an audience of 250,000, stapled her stomach down to the size of a thumb. (It has since stretched to the size of a lemon, but won't get any bigger.) The pounds quickly melted away, but Wilson's problems didn't. "She thought she'd lose the weight, be fine and fly from there," says Leslie Jester, Dr. Wittgrove's head nurse practitioner, who has become her mentor. "But the psychological changes are enormous."
There was, for instance, Wilson's difficulty accepting her new self. "Even though she looked beautiful on the outside, she still struggled with feelings of not being pretty or good enough," says Bonfiglio. "I've tried to be as supportive as I can, to give her an extra 'Hey, you look great.' " Says Wilson: "Rob has been really great at making me feel good about myself."
Also tough for Wilson was finding ways to deal with everyday stresses without turning to food. "Most of her life, she had food to help her cope," Jester says. "Now she had to cope on her own." Wilson turned briefly to smoking marijuana, which she had used occasionally in the past. Afraid she might become dependent -- "I'm an addictive personality," she says -- she began weekly psychotherapy in April 2000 to help her quit and stepped up her attendance at meetings of her monthly support group, made up of 20 women who have had gastric bypass surgery. "Some people come and they've gained 25 lbs.," Wilson says. "I think, 'I don't want that to be me.' "
Over last year's Christmas holidays, she feared it might be. "I was baking cookies for everyone and taking a bite here and there," Wilson says. Before she knew it she had packed on 7 lbs. and couldn't button her pants. She panicked. "The weight gain scared her," Wendy says. "But I told her, 'It's just a few pounds. You can lose it if you want to.' "
Wilson met with Jester for an emergency pep talk. She reminded Wilson of the four rules Dr. Wittgrove gives his GBS patients: Drink 64 ozs. of water a day, exercise at least 20 minutes daily, eat protein first and limit snacking. "It's very rare, but you can definitely gain the weight back after gastric bypass surgery," Wittgrove says. "Carnie will have to be accountable for the rest of her life."
These days she's feeling up to the challenge. Wilson power-walks with Bonfiglio three times a week and lifts weights with a personal trainer twice a week. Bingeing on former favorites, like french fries with sour cream and ketchup, isn't a temptation because if she eats too much at one sitting, she breaks out in a cold sweat, her heart races and she has to lie down. "It's the worst feeling in the world," she says. She eats three light meals of protein, fruit and vegetables a day and snacks on peanuts, raisins "and a tiny piece of chocolate -- it's my daily fix." Her mother, for one, is impressed. "I don't know anyone who eats as healthy as my daughter," Marilyn marvels. "Before, she couldn't wait to attack the bowl of chips when we went to a Mexican restaurant. Now she looks at me like, 'Mom, control yourself!' "
Which doesn't mean Wilson no longer has cravings. "Getting full fast is easy because it's done for me," she says. "But choosing to say no to food? That's not easy, because mentally I still want it." She has tricks she uses to restrain herself. If she wants dessert, she'll order it, take one bite "and then pour salt all over it before I take another bite," she says. "People look at me like I'm nuts."
But pleasing strangers isn't high on Wilson's list of priorities of late. What does matter is starting a family someday ("I'm not scared of gaining weight when I'm pregnant -- I'll deal with it," she says), finishing up Wilson Phillips' new album (due out next spring) and raising awareness about gastric bypass surgery. Since the end of 2000 she has given bimonthly lectures about her struggles in cities nationwide, and the American Society for Bariatric Surgery credits her for helping to popularize the procedure (36,700 bypasses were performed in 2000; in 2001 the total was 62,400). Says Wilson: "I love to assist people. It makes me feel good."
Almost as good as being able to slip into the outfit of her dreams: a slinky black halter dress. She isn't there yet, but after her next -- and, she swears, last -- surgery, to remove excess skin from her upper arms later this year, there'll be no stopping her. "It's the piece of clothing I want to wear and feel completely confident in," she says. "It will be amazing, so sexy. I'm ready to get out there and shine."
-- SOPHFRONIA SCOTT
-- ULRICA WIHLBORG in Los Angeles
Mon commentaire
Le brochage d'estomac, est-ce une solution? Le brochage d'estomac, est-ce que cela fonctionne? Le brochage d'estomac, est-ce miraculeux? Le brochage d'estomac, est-ce réaliste? Le brochage d'estomac, est-ce envisageable?
La réponse est non pour toutes ces questions. Moi, j'aimerais bien qu'il existe un moyen pour remédier à l'obésité sévère. Mais, ce moyen n'existe pas. Et ce texte, sur l'expérience de Carnie Wilson, nous le prouve. Car, elle doit surveiller, ce qu'elle mange pour ne pas ré-engraisser. Car, elle vit des rages de faim tous les jours et doit se contrôler pour ne pas se jeter dans la bouffe. Ainsi, elle doit maîtriser sa compulsivité, exactement comme une femme fait en période de maintient, après avoir suivi une diète sévère qui lui a fait perdre beaucoup de poids.
Alors, pourquoi risquer de mourir sur la table d'opération, pour un truck qui n'est rien d'autre qu'un type de régime à basse calorie, comme tant d'autres. La seule différence avec celui-ci, la personne n'a pas besoin d'utiliser sa volonté. En effet, elle y est forcée par une restriction mécanique. Si elle dépasse une certaine quantité de nourriture, cela lui provoque un malaise.
Si cette opération était miraculeuse. La personnes, après avoir subit l'opération, elle devrait perde du poids et ne pas avoir peur de le reprendre, et cela, tout en manger à satiété. Ceci serait possible seulement dans le cas où cette opération aurait comme but d'augmenter le métabolisme de base. Ce qui est loin d'être le cas avec le brochage d'estomac, il fait drastiquement abaisser le métabolisme de base.
Le "craving", que vit Carnie, nous indique que son niveau de santé mentale est très bas. Ressentir le besoin de manger fortement et continuellement signifie faire de l'anxiété. Plus tu fais de l'anxiété, plus tu as une santé mentale vacillante.
Alors, deux choix se présentent aux personnes qui sont de fortes tailles et qui pensent à se faire brocher l'estomac. Perdre du poids temporairement au risque de sa vie et à avoir à supporter un niveau élevé d'anxiété. Ou bien, de faire des efforts pour s'adapter et accepter le fait d'être une personne de forte taille et avoir une bonne santé mentale.
Pour moi, je considère que la santé mentale prime sur toutes les autres considérations. Les avantages d'une perte de poids sont annulés par un faible niveau de santé mentale. La souffrance de se sentir mal dans la peau d'une personne obèse et cent fois plus facile à vivre que la souffrance associée à réaliser que vous aurez à supporter beaucoup d'anxiété, à cause de la nourriture, pour le reste de vos jours. Car, vous pouvez choisir d'accepter de vivre avec votre poids, pour moins souffrir. Mais, dans l'autre cas, vous n'y pouvez rien.
Complément d'informations:
"Je me suis fait brocher l'estomac"
People magazine
Mise en demeure de Dr Gaétan Barrette
---
Les sujets précédents :
L'obsession de la ligne fait des ravages à Singapour
Sex tips for big women
Une occasion en or de provoquer le vrai changement
La rondeur dans l'actualité des mois passés