OLYMPIC REVIEW
Athletes to watch
Revue News Week du 11 September 2000
Sujet:Les rondes aux jeux olympique de Sydney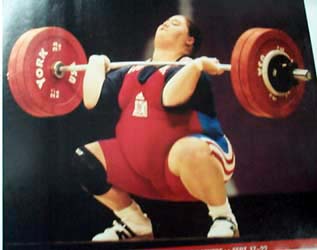 On peut y lire en page 33:
At 5 feet 9 and 300 pounds, Cheryl Haworth (above) has the perfect body-for a weight lifter. It's not just that 17-year-old can hoist more than 300 pounds above her head; she is also limber and agile. She can run 40 yards in five seconds flat and do a split. Of the four women representing the United States in Sydney, she is the medal favorite. Her toughest competition comes from Agata Wrobel of Poland and Wang Yanmei of China. (Wang, who lifted 356 pounds in competition this year, is a world-record holder.) There are seven weight classes for women, starting with fly-weight, the men have eight. Haworth is in superheavy weight group. She is proud of 32-inch thighs and that she can bench-press nearly 500 pounds. "I go to th gym every day and lift a couple of tons," Haworth says casually. Actually, she's being modest; on a typical day in her Savannah, Ga., gym she'll lift as much as 25 tons. Her idea of a coke is to pick up and move a friend's car across the school parking lot. Now she'll go to Sydney and throw her weight around.
Gallery of Cheryl Haworth
'Scared' Cheryl Haworth captures gold medal at Pan American Games
Cheryl Haworth makes triumphant return from Senior World Weightlifting Championships
Cheryl Haworth tops Greater Savannah Hall of Fame honorees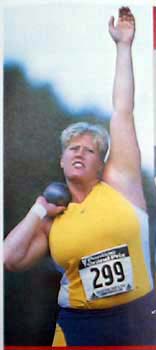 On peut y lire en page 45:
US shot-putter Tressa Thompson (above) tested positive for three drugs.
Interview avec Tressa
Mission 2000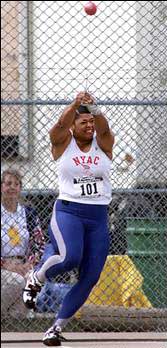 On peut y lire en dans le site web NBC Sport:
Dawn Ellerbe of the United States winds up to toss the ball in the hammer throw-- another women's first at this Olympics. Having won five of the six most recent national titles. Ellerbe still faces tough competition among her European opponents.
Gold won by Ellerbe in hammer throw
Mon commentaire
Voyez-vous cela d'ici, une femme ronde avec une médaille olympique d'or au cou? En tout cas, cela nous envoie un message super positif en faveur de la normalisation de l'état de fait de la diversité morphologique féminine. Donc, une femme peut avoir du talent et performer athlétiquement peu importe sa morphologie.
Les petites femmes sont bonnes dans les compétitions d'endurance cardio-vasculaire, comme la course à pieds et le vélo. Mais aussitôt qu'une épreuve sportive exige de la force musculaire, les femmes rondes font leur apparition.
C'est la première année où l'haltérophilie féminine sera au programme des jeux Olympique. Ce qui nous donnera une raison de suivre cette épreuve à la télé pour avoir le plaisir de voir de belles femmes rondes et surtout très fortes.
Après cela qu'on ne vient pas nous dire qu'il faut perdre du poids pour une question de santé, parce que c'est dur sur l'articulation des genoux ou afin de pouvoir monter plus facilement les marches, etc. En fait, cela n'est qu'une question d'entraînement. Une femme très ronde peut avec l'entraînement faire des performances sportives en tirant profit de sa morphologie.
Pour finir, ces femmes haltérophiles sont loin d'être malade. Elles nous prouvent que la corpulence, n'est pas une maladie. C'est héréditaire.
---
Les sujets précédents :
Publicité du Supermagasin Pennington
Déclaration de la semaine
La rondeur dans l'actualité des mois passés