Fly Girls
People Weekly du 10 septembre 2001 page 159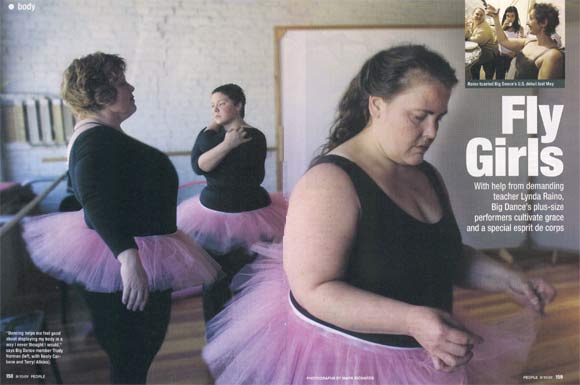 "Dancing helps me feel good about displaying my body in a way I never thought I would," says Big Dance member Trudy Norman (left, with Neely Carbone and Terryl Atkins).
Sujet:L'expression artistique, c'est pour toute le monde
On peut y lire :
With help from demanding teacher Lynda Raino, Big Dance's plus-size performers cultivate grace and special esprit de corps
At Lynda Raino's studio in Victoria, B.C., three barefoot dancers turn, stretch and glide across the wooden floor to blues music. Their moves are by the book, but their figures, in the dance world, are anything but: Each member of the Big Dance troupe weighs between 220 and 300 lbs. "Artistry does not belong just to thin bodies," says Raino, 53, a choreographer and performer who put the group together in 1993. "If you want to dance, you find a way."
Big Dance's members - Ph.D. student Terryl Atkins, 46, salesclerk Neely Carbone, 47 - found their way as students at the 90 minutes, twice-weekly modern dance classes Raino started in 1992, when she realized plus-size women were too embarrassed to join her regular classes. "I had always wanted to dance, but not with a bunch of skinny young people," says writer Bev Cooke, 46, one of the first students to enroll.
Indeed, not being surronded by thinner bodies gives the Big Dancers the confidence to follow the demanding Raino, herself a person 5'3". "It is so hard to find peace and solace in who you are," says Carbone. "But now I have a safe place."
When the troupe performs - it first appeared in Canada in 1993 and earned a standing ovation at its U.S. debut in Oakland last May - audience get to see the women in a new light too. "These dancers have a gracefulness that may surprise" folks who assume large people are ungainly, says Deirdre Kelly, arts reviewer for Canada' Globe and Mail, "and many our society do."
Raino has tried shattering stereotypes before. Growing up Vancouver with four siblings, the five-sport athlete always wanted to a ballerina. But her parents musician Dominic, who died in 1965, and part-time nurse Elizabeth, who died in 1995 - couldn't afford lessons, so she didn't set foot in a dance studio until she was able to pay her own way at age 18. Though she soared in modern dance, she fell to earth receiving a scholarship to study classical ballet with Les Grands Ballets Canadiens in 1970. Her untraditional physique just didn't fit in with the swanlike ballerinas around her. "I felt like a hippo," she says. She returned to modern dance and toured abroad as soloist from 1983 to 1993.
Her success in modern dance, which embraces a wider range of body types, restored her confidence - something she strives to instill in her pupils. "They come here oppressed and ashamed," says Raino, who is single and lives with her cat Lala in a two-bedroom bungalow in Victoria. (She has two sons, student Paolo Raino-Tsui, 26, and strockbroker Sorell Raino-Tsui, 22, from a five-year relationship that ended in 1979.) "But gradually," she adds, "they allow themselves to move and take up space in a grand way."
Julie K.L. Dam
Vivian Smith in Victoria
For more on Big Dance, go to www.people.com or AOL
Bodies in Motion
SF Weekly Online -- sfweekly.com | Calendar | Big Is Better
Big dance
Mon commentaire
C'est comme je disais, l'an passé au sujet d'un spectacle de ballet dans l'Oural occidental avec des femmes rondes, l'art n'est pas une performance sportive. L'art sert à susciter des émotions et tous les types de morphologies peuvent susciter des émotions.
Dans le monde de la danse, il y a une tradition d'exclusion morphologique. Ils ont développé cet art en fonction du corps de la femme anorexique. Qu'est-ce qu'un corps frêle peut faire qu'un corps plus enveloppé ne peut pas faire ? Pour eux, ce qui est beau à voir, c'est les prouesses athlétiques que ses squelettes ambulants peuvent réaliser. Tandis, qu'il serait plus intelligent de partir des émotions que l'on désire faire vivre à l'auditoire. Ensuite, choisir le type de corps qui fera vivre ce type d'émotions.
Le monde de la danse actuel a une tradition puritaine et judéo-chrétienne. La sexualité, c'est un péché et surtout celle de la femme. Les âmes des bien pensants de ce milieu de pureté morale, considèrent qu'une femme avec des formes féminines généreuses serait vulgaire sur scène. Cela serait de mauvais goûts, parce que les rondeurs féminines dégagent un message sexuel fort.
Ceux, pour qui la sexualité féminine dérangent, sont soit des misogynes ou des homosexuels.
Il serait intéressant que d'autre école de danse comme celle-là, pour les tailles de 14+, se propagent afin d'aider les femmes à apprécier leur corps.
Voir leurs spectacles de danse, pour réaliser, à quel point un corps de femme adulte peut-être beaux?
Cet article, appuie mon idée de faire des produits culturels contenant des femmes ayant des rondeurs destiner aux femmes qui ont décidé de bien vivre avec leur corps et pour les hommes qui les aiment.
---
Les sujets précédents :
À ma soeur!
La rondeur dans l'actualité des mois passés