Bigger women are better lovers!
National Examiner september 4, 2001 page 16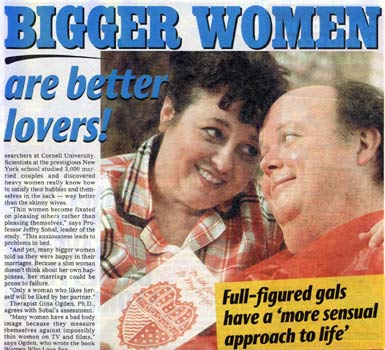 Sujet: L'attitude gagnante
On peut y lire :
Full-figured gals have a 'more sensual approach to life'
Studies prove:
Suys can fantasize all they want about skinny actresses like Lara Flynn Boyle and models like Heidi Klum. But in realife, Rubanesque gals like actress Camryn Manheim are more likely to make their sexual dreams come true.
Full-figured women DO make better lovers, say experts.
No less than Dr.James Watson covered the structure of DNA - has proposed that bigger women are best in the sack because their weight dose of the hormones that fill them with desire.
"Fat boosts production of endorphins, the natural mood-enhancing chemicals," says Watson in the London Observer. "And leptin, a chemical made in fatty tissue, helps create sexual desire. Finally, women with a higher levels of MSH, another hormone linked to desire.
"Thin women are NOT the most sexually satisfied, at all."
The pronouncements by the founder of the Human Genome Project have been backed up by researchers at Cornell University Scientists at the prestigious New York school studied 3000 married couples and discovered heavy women really know how to satisfy their hubbies and themselves in the sack - way better than the skinny wives.
"Thin women become fixated on pleasing others rather than pleasing themselves" says Professor Jeffry Sobal, leader of the study. "This anxiousness leads to problems in bed.
"And yet, many bigger women told us they were happy in their marriages. Because a slim woman doesn't think about her own happiness, her marriage could be prone to failure.
"Only a woman who likes herself will be liked by her partner."
Therapist Gina Ogden, Ph D., agrees with Sobal's assessment.
"Many women who have a bad body image because they measure themselves against impossibly thin women on TV and films," says Ogden, who wrote the book Women Who Love sex.
"Sexuality is linked to body image. A women who is self-conscious about her body stands outside of it, judging it harshly. She may even avoid having sex so she won't have to 'see' herself this way."
A study by Weight Watchers Magazine reveals pudgy women not only enjoy sex more - they also have more affairs.
Eighty-seven percent of the 6000 respondents reported being 10 to 40 pounds overweight, but these same women scored some steamy numbers on the sexual activity portion of the questionnaire.
Check out how many times these gals make love each week :
- 38 percent, three times.
- 18 percent, three to six times.
-2 percent, EVERY DAY!
Compare that with statistics from the nationwide Sex In America study, which reported that only 37 percent of the women who answered had sex two or more times.
"These women may experience the world through their bodies more intensely than others," says the Weight Watchers survey report.
"They may have a more sensual approach to life than other women. Additionally, they may have a heightened awareness of all their appetites and are therefore more likely to satisfy them."
One reason chubby gals probably have more sex is because they enjoy it more, says the Weight Watchers study. Eighty-five percent revealed they "always or usually" enjoy sex and 70 percent almost always have an orgasm. In the sex In America study, only 40 percent to 45 percent reported regular sexual satisfaction, and only 29 percent could always have an orgasm.
"These women look at their appetites as vehicles for experiencing life's pleasures - not desires to be suppressed or denied," says the Weight Watchers report.
"Rather than seeing sex as a chore or marital responsibility, our women may think of it as a way to achieve intimacy and enjoyment with their partners."
Mon commentaire
Le mot d'ordre donné aux femmes, de surveiller leur poids afin d'être perçues comme vertueuses, est une machination pour les maintenir dans un état de frustation. Moralement, il n'est pas bon pour la femme, de retirer trop de plaisir de la vie. La femme, selon les pasteurs de la minceur, est un être de devoir. La femme a le devoir de plaire à l'homme. Elle est au service des hommes et doit s'oublier totalement.
Ainsi, la femme se doit d'être mince, pour plaire aux hommes. Parce que paraît-il, la rondeur féminine rend un homme impuissant. Pour ne pas se sentir exclue ou regarder de travers, la femme se doit de marcher les fesses ou le cu serré. En effet, une femme sur la diète, est constipée dans les deux sens du terme. Une femme sous haute surveillance de gourmandise, ne peut pas se permettre de se laisser aller aux plaisirs des sens.
Une femme, qui souffre de la faim et d'un manque de plaisir dans sa vie en général, est plus facilement contrôlable. Plus fragile, elle se soumet sans se plaindre aux exigences sexuelles de son partenaire. Une esclave des apparences devient souvent une esclave sexuelle.
Alors, à vous de choisir la vie que vous voulez vivre. Si vous voulez être malheureuse, insatisfaite et faire pitié, alors continuer à envier le corps mince des vedettes, continuez de vous obstiner à vous trouver moche, continuez à penser que vous ne pourrez jamais être heureuse en amour, continuez à penser que vous ne pouvez pas être désirable sexuellement, continuez à refuser de croire votre partenaire quand il vous dit qu'il vous trouver belle et à son goût.
En contrepartie, si vous décidez de faire une belle vie. Vous aller désormais, apprendre à apprécier le merveilleux cadeau que la nature vous a donné: vos rondeurs. Elles sont responsables de votre beauté, elles font que vous êtes sexuellement attirante et le plus important, elles vous permettent de jouir de la vie.
En effet, c'est le plaisir qui donne un sens à notre vie. Sans le plaisir, on perdrait tout intérêt à la vie, on s'ombrait dans une dépression nerveuse profonde.
Vous êtes très chanceuse de ne pas être mince. Réaliser, que vos rondeurs vous permettent d'établir des relations sexuelles égalitaires, devrait vous réconcilier avec votre corps.
---
Les sujets précédents :
Lancement d'une chaîne gay
Les agences d'escortes carburent à plein régime
Internet weirdos' deadly game - Anorexia on the web
La rondeur dans l'actualité des mois passés