Fat people don't go to heaven
Le journal Globe du 21 novembre 2000 en page 5
Sujet:L'élimination de la rondeur féminine, une question de moral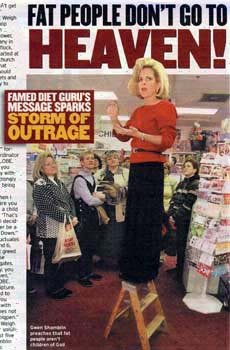 On peut y lire:
Famed diet guru's message sparks storm of outrage
Gwen Shamblin preaches that fat people aren't children of god
Fat people can't get onto heaven!"
That's what Weigh Down Workshop founder Gwen Shamblin told a follower, who then joinded many in leaving Shamblin's flock.
The workshop, started at a Houston Baptist church in 1979, preaches that overweight folks should forget about fad diets and realize the best way to shed pounds is to demonstrate self control and put their trust in God.
But a recent discussion of sin revealed a side to Shamblin that left followers stunned.
"I couldn't believe she said that," former workshop coordinator Pam Sneed tells Globe. "Gwen insists that you must be completely without sin and feels strongly that people are being influenced by sin.
"I asked her: 'When I was 254 pounds, are you telling me I wasn't a child of God?' She said: 'That's right.' It was then I decided I could no longer be a member of Weigh Down."
Shamblin, who fluctuates between a size 4 and 6, says it's not fat, but greed that keeps the obese outside the pearly gates.
"If you're greedy, you can't get into heaven," Shamblin tells Globe. "It's written in scripture. If you're using food to feed your greed, you cannot be in tune with the Lord. Grace does not go down into the pigpen."
Sneed, who left Weigh Down in July, after volunteering for the past five years, claims Shamblin was perfectly clear.
"She said that if you overeat, you can't be right with the Lord," says Sneed, who lost over 100 lbs. through the workshop. "She made all this money by deceiving us into thinking she was one of us."
Preaching her beliefs in churches across the nation, Shamblin, 45, made Weigh Down a huge success story. Boosted by a pair of best-selling books and inspirational videos, she's touched people in 70 different countries. She even touted her program on The View.
But Sheed's accusation is just the late in a string of troubles for Shamblin. After publicly stating that she disagrees with the church doctrine of the Holy Trinity, a backlash in the Christian community began. Christian bookstores have returned copies of her works to publishers. Chicago's Willow Creek Community church, with 17,000 parishioners, is just one of thousands off churches that pulled their support.
Meanwhile, former Wokshop employee Tonya Cardente claims she was fired for rejecting Shamblin's beliefs and refusing to join her church, Remnant Fellowship. She's filed a religious-discrimination lawsuit.
Shamblin is also having problems publishing another book. After putting out her second tome, Thomas Nelson Publishers canceled plans to market her third in September.
Mon commentaire
Fantastique, cet article, il fait ressortir l'aspect du jugement moral qui entoure la rondeur féminine. Il prouve que ma vision des choses représente bien la réalité. La rondeur féminine représente le mal et le péché. C'est comme je disais, faire maigrir une femme, c'est sortir le démon rondeur de son corps. C'est un exorciste.
Toutes les méthodes d'amaigrissement et leur gourou utilisent sans exception la manipulation moraliste à la sauce chrétienne. Et surtout celles qui utilisent la pression du groupe pour forcer les participantes à persévérer dans leur régime. D'ailleurs, que j'appelle des sectes d'amaigrissement dont Weight Wacthers et Mincavi en font partie.
La lutte contre la rondeur est à l'image de la morale chrétienne intégriste. L'embonpoint est le fruit du péché de la gourmandise. Tous les préjugés habituels constituent un jugement moral dans le but de faire sentir la femme coupable d'avoir des rondeurs. Préjugés qui dit que la femme ronde mange ses émotions, elle manque de fierté, elle se laisse aller, elle a un manque d'estime, elle mange sans arrêt et elle n'a pas de volonté. La femme ronde est une pas bonne, elle ne fait pas partie de la classe des femmes vertueuses parce que minces.
Les médecins se transforment en curées, quand ils viennent parler en public des dangers de l'obésité. Une femme ronde qui entre dans le bureau du médecin, entre dans un confessionnal pour admettre son péché.
À certaines personnes, aussitôt que je parle positivement de la rondeur féminine, elles m'arrivent avec l'argument de la santé. Elles pensent que la femme ronde n'est pas en santé et doit maigrir pour le devenir. L'argument santé est utilisé pour faire peur afin de remettre les femmes rondes dans le bon chemin.
Le débat sur l'embonpoint dans notre société concerne la morale et non la santé. Une morale qui est voulue et entretenue par ceux qui veulent faire de l'argent avec les femmes.
Alors respectez-vous, éloignez-vous des histoires d'amaigrissement, évitez de vous faire prendre par cette manipulation, faites votre vie sans vous préoccuper de votre poids. Vous serez ainsi plus heureuse et épanouie.
---
Les sujets précédents :
Juliette revient
The Skinny on Carnie Wilson
La rondeur dans l'actualité des mois passés