Liv Tyler : Fat & Happy
... Since she got engaged
Star 25 décembre 2001 page 31
Sujet: Belle expression : Ronde & Joyeuse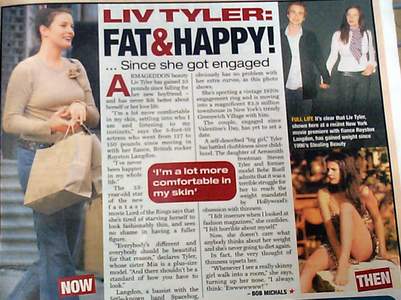 On peut y lire:
Armageddon beauty Liv Tyler has gained 23 pounds since falling for her new boyfriend - and has never felt better about herself or love life.
"I'm a lot more comfortable in my skin, settling into who I am and listening to my instincts," says the 5-foot-10 actress who went from 127 to 150 pounds since moving in with her fiance, British rocker Royston Langdon.
"I've never been happier in my whole life."
The 23-year-old star of the new fantasy movie Lord of the Rings says that she's tired of starving herself to look fashionably thin, and sees no shame in having a fuller figure.
"Everybody's different and everybody should be beautiful for that reason," declares Tyler, whose sister Mia is plus-size model. "and there shouldn't be a standard of how you have to look."
Langdon a bassist with the little-known band Spacehog, obviously has no problem with her extra curves, as this photo shows.
She's sporting a vintage 1920s engagement ring and is moving into a magnificent $2.9 million townhouse in New York's trendy Greenwich Village with him.
The couple, engaged since Valentine's Day, has yet to set a date.
A self-described "big girl," Tyler has battled chubbiness since childhood. The daughter of Aerosmith frontman Steven Tyler and former model Bebe Buell admits that it was a terrible struggle for her to reach the weight mandated by Hollywood's obsession with thinness.
"I felt insecure when I looked at fashion magazines," she confides. "I felt horrible about myself."
Now, she doesn't care what anybody thinks about her weight and she's never going to diet again.
In fact, the very thought of thinness upsets her.
"Whenever I see a really skinny girl walk into a room," she says, turning up her nose. "I always think : 'Ewwwwwww!". - Bob Michals
Les photos d'elles quand elle souffrait de la faim
Lord of the Rings Premiere Picture Gallery
Lovely Liv Tyler
Mon commentaire
Quel beau texte! C'est mon cadeau de noël. Liv nous démontre ici qu'elle a une tête sur les épaules. Elle a compris que sa santé mentale est plus importante que l'argent qu'elle peut obtenir à être un mannequin standard.
Les femmes artistes et mannequins se font souffrir à l'aide de diètes sévères pour l'argent. Mais en contrepartie, qu'est-ce qui motive une femme, madame tout le monde, à décider de se faire violence à suivre une diète ? Qu'est-ce que cela lui va lui apporter dans sa vie d'avoir perdu du poids ?
Elle ne gagnera pas plus d'argent, elle n'aura pas plus d'amis, elle n'aura pas plus de chance de trouver un amoureux (le vrai amour), sa vie ne sera pas plus belle et elle ne sera pas mieux dans sa peau.
Donc, il n'y a pas de raison qui justifierait que vous devriez perdre du poids autre que de céder aux pressions de notre société obsédée par la minceur.
Vous avez donc tout à gagner de décider d'apprécier vos rondeurs, parce que comme dit Liv avoir des rondeurs la rend joyeuses. Pour vous aussi, vos rondeurs vous permettent de vous sentir bien dans votre peau, parce qu'elles font parties de vous, de votre réalité. Vous avez des rondeurs parce vous êtes bonne pour votre corps. Et votre corps vous remercie en retour en vous faisant vivre du plaisir.
Pour le temps des fêtes pensez plaisir, plaisir de manger, plaisir de manger gras, plaisir de manger sucrée, plaisir de rire, plaisir de jouer, plaisir de parler, plaisir de faire des activités extérieures, plaisir de recevoir des cadeaux, plaisir de donner des cadeaux et finalement si vous êtes en couple le plaisir du contact physique affectueux et chaleureux.
---
Les sujets précédents :
Plus fluette que l'an dernier - Paquet d'os! - Calista Flockhart
Women with broad hips are healthier
La rondeur dans l'actualité des mois passés