Oprah battling eating disorder
Journal The National Enquirer 24 octobre 2000 p. 28
Sujet:Ils vont tu finir par la laisser tranquille un jour ?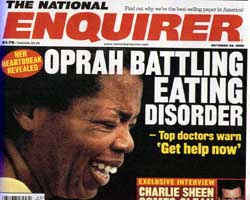 On peut y lire:
Top doctors warn 'get help now' as her heartbreak is revealed
Oprah Winfrey is battling a serious eating disorder.
The talk show hostess' disorder is triggered by deeps psychological wounds she's suffered from a string of traumatic events in her life, say medical experts consulted by The Enquirer. These events include rape by a relative, a teenage pregnancy, the death of her baby, a half-sister's drug addiction and her half-brother's death.
"Oprah needs to stop and say to herself, 'I have an eating disorder," a source close to the 46-year-old star told The Inquirer.
"That's the first step on the road to recovery.
"All her friends are pulling for her to do this - but she doesn't seem quite able to."
"And the experts say that unless Oprah deals with these wounds first, she will never find a cure for her disorder.
"Oprah has a chronic condition - she's a compulsive overeater - and it's not something you can cure with an off-and-on diet," said nationally known eating disorder specialist Dr. Matthew S. Keene, one of the experts who studied fot The Inquirer Oprah's numerous public comments about her weight and diet issues.
She can identify her struggle with food, but she's in denial on getting to the underlying cause of the problem.
Oprah eating disorder "is rooted in underlying psychological problems," agreed Dr. Carole Lieberman, a national known psychiatrist...
"Women who have been sexually abused often become overweight and can't lose weight no matter how hard they try," she told The Inquirer.
"The underlying reason is their shame and guilt over the abuse - and their fear of attracting sexual attention.
Since she began her television career in the 1970s, 5-foot-7 Oprah's weight has bounced dramatically - and often - between a low of 130 pounds and a hight of 237 pounds.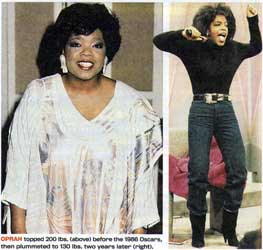 Oprah topped 200 lbs. (above) before the 1986 Oscars, the plummeted to 130 lbs. two years later (right)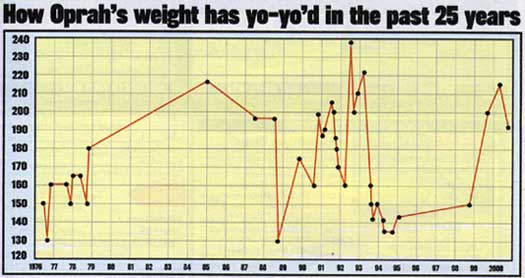 From 1976 until today, Oprah's weight has fluctuated by 750 pounds. She has gained nearly 400 pounds and lost about 350.
In numerous interviews she's admitted being a "food junkie" and a " food addict." She once disclosed: "Food meant security and comfort. Food meant love. It didn't matter what you ate, just that you had enough."
Oprah's said she has tried a "gazillion diets, such ...
Oprah's most famous weight-related episode came in 1998 when she went on medically supervised 400-calories-a-day liquid protein diet and lost 67 pounds in three months.
But shortly after that triumph, the eating disorder got the best of her again and she packed on 107 pounds. By 1992 she tipped the scales at 237 pounds.
Around this time a doctor warned Oprah to lose weight or her life "would be in jeopardy," according to biographer.
Dr. Jack Leedy, a New York psychiatrist who has treated many patients with eating disorder's, confirmed: "If Oprah underwent treatment for the underlying emotional trauma, she would undoubtedly be able to lose weight successfully."
"Oprah reaches for food for comfort in times of stress and hardship, and the pounds start piling up yet again.
Warning signs How to tell if you have a disorder
Dr. Keene...
1. Are you over your ideal body weight?
Mon commentaire
Le monde artistique n'accepte pas qu'une femme ait des rondes. La minceur est glorifiée et la rondeur méprisée. Cette manière d'expliquer l'embonpoint d'Oprah part de cette stigmatisation envers la rondeur féminine.
Dans cette optique, la corpulence de Oprah est perçue comme pas normale. Ses rondeurs ne sont pas naturelles. Conséquemment, lorsque l'on considère une chose malsaine, il va de soi qu'on cherche une explication à son existence et une solution pour l'éliminer!
La décision d'Oprah de ne plus tenter d'essayer de perdre du poids est très bonne, intelligente et adaptée. Elle a compris avec l'expérience que la nature avait prévu pour elle un corps bien enrobé et qu'il n'y a rien qui puisse changer cette réalité. En effet, la nature est plus forte que vous. Vous battre contre votre poids est inutile, vous réussirez seulement à détruire votre santé physique et mentale.
Oprah ne veut plus maigrir parce qu'elle sait que cela affaiblirait sa santé dangereusement, parce qu'elle est déjà précarisée à cause de ses multiples tentatives pour perdre du poids.
Elle n'est pas responsable et n'a pas à se sentir coupable de son embonpoint, parce qu'elle ne peut pas choisir le corps qu'elle voudrait avoir. Son embonpoint est naturel et favorise une bonne santé.
Tout ce discours autour de la dépendance à la nourriture, la nourriture comme drogue, manger ses émotions et la nourriture pour faire diminuer l'anxiété. C'est vrai, mais cela peut être perçu négativement ou positivement, tout dépendant de notre position pour ou contre la rondeur féminine.
Pour moi, une personne qui utilise la nourriture pour faire diminuer son anxiété est saine d'esprit. Nous sommes tous (tes) dépendants aux nourritures, parce qu'elle est essentielle à notre survie. Le plaisir de manger est important pour se maintenir en bonne santé mentale. Manger, nous calme et nous réconforte. Manger ne comble pas seulement notre besoin d'énergie et de nutriment, mais comble notre besoin de sécurité.
Manger quand on est triste, manger quand on est frustré, etc., c'est correct. Oui, le plaisir de manger est une drogue, et c'est correct que cela en soit ainsi.
Ce genre d'article est fait dans le but de lui mettre de la pression pour qu'elle fasse quelque chose pour perdre du poids. Le milieu artistique n'aime pas sa décision de ne plus rien faire. Elle devient une déviante. On n'aime pas celles qui dérogent de la norme. Ils vont jusqu'à aller chercher des spécialistes pour la faire se sentir coupable.
Ils ont énoncé une fausse définition du désordre alimentaire. Ce qui caractérise principalement un désordre alimentaire, c'est la perte de plaisir à manger. Avoir un désordre alimentaire, c'est être en contrôle de sa prise alimentaire de peur d'engraisser. Dans cette situation la nourriture n'est pas utilisée comme une drogue pour obtenir du plaisir, mais comme punition pour se faire violence. La rondeur féminine n'est donc pas le résultat d'un désordre alimentaire, mais bien la preuve qu'une femme a une bonne santé mentale.
L'histoire d'Oprah nous prouve que la position anti-diète et pro-rondeur est la bonne. Elle vous confirme que vos rondeurs sont normales. Et que le mieux pour votre santé, c'est d'apprendre à faire avec.
---
Les sujets précédents :
EVERY BODY CAN BECOME FIT
Kirstie's big cover-up - Sitcom star a ball on the beach - after raiding Veronica's Closet!
'ALLY MCBEAL' STAR SAVED FROM ANOREXIA - ... thanks to Camryn Manheim
En Bref - Roseanne Barr
Sally Field's Diet Pill nightmare
Bamboula new-yorkaise
La rondeur dans l'actualité des mois passés