Special repport
A BODY TO DIE FOR
Revue People Weekly du 30 octobre 2000 p.108
Sujet:La minceur, c'est la santé, il disait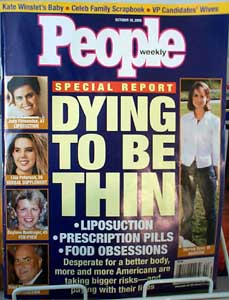 On peut y lire:
In an endless quest to slim down, image-obsessed Americans try surgery, pills and starvation - sometimes with fatal results
In his sprawling La Habra , Calif., Home Ruben Fernandez is surrounded by reminders of his late wife, ...
That included her figure. At 47, the mother of three decided it was time for lipoplasty, commonly called liposuction, a procedure that siphons fat from strategic areas. "She had gained a few pounds," recalls Fernandez, now also 47. "She was just looking, lets say, for maintenance."
Instead, on March 17, 1997, Judy Fernandez died following extensive cosmetic surgery, a casualty of the all-too-common pursuit of the perfect body. "The premium for women on physical beauty over intelligence is on the order of 100 to 1," psychologist Dr. Rex Beaber says bluntly.
Liposuction was by far the most popular surgery : More than 230,000 procedures were performed (sur 1 million d'interventions par année), almost 30,000 of them on men, a 350 percent rise since 1992.
A 1998 study showed that over the previous four years the fatality rate for liposuctions was one in 5,000. "To put it in perspective, the incidence of death from liposuction is two to three times higher than of dying from a normal pregnancy," says Dr Robert del Junco, former president of the California State Medical Board. "The Liposuction is the only cosmetic surgery with this level of risk."
Of course liposuction is but one potentially fatal manifestation of the cult of thin. According to the National Association of Anorexia Nervosa an Associated Disorders, roughly 7 million American girls and women and 1 million boys and men struggle with eating disorders. The mortality rate from anorexia estimated between 10 and 20 percent - is the highest of any mental disorder.
Plus, there are diet pills that offer another supposedly quick and easy way to lose weight. In August a federal judge approved a $3.75 billion settlement of claims stemming from 9,000 lawsuits against American Home Products, the maker of fenfluramine, part of the diet drug fen-phen, which was pulled from the market in 1997 after a study linked it to heartvalve damage. In addition, the U.S. Food and Drug Administration is studying the herbal supplement ephedra, a stimulant used for weight loss that some studies have tied to strokes and heart attacks.
On following pages are the stories of six people who, like so many, were consumed by the battle to lose weight. Three sought help from liposuction, two took pills, one starved herself- and all paid with their lives.
Judy Fernandez
At 47, Judy didn't like the signs of age she was seeing in herself. There were more and more new wrinkles, and at 5'3", she weighed 147 lbs., about 30 more than when she'd met Ruben.
"Why don't you just go to the gym?" Ruben asked. But Judy was comfortable with cosmetic surgery, having had her breasts enlarged years before. "This is the easy way," she replied.
Judy's blood had been dangerously diluted with several kinds of fluids. At 8 that evening, Matory said they needed to take her to a hospital, at which point Ruben burst into the operating room and received a horrific shock. " She was dripping fluids from various parts of her body," he says. "She was swollen to about twice her normal size. She was a see-through color, the color of death."
"Sorry," he told Ruben, "but we lost her." Judy's cardiovascular system had shut down- a consequence, according to medical records, of massive blood loss.
Merrick Ryan
Then last January, Merrick Ryan killed herself at 19.
What happened? Like so many young women, she began comparing herself to the ultrathin "ideal" equated with chic sophistication and saw herself as inadequate.
That summer, Merrick lost 10 lbs. From her 5'7", 128-lb. Frame and said, "I'm getting prettier, aren't I?"
But at some point she was no longer the normal girl longing for a new figure. She grew psychologically obsessed with her weight and trapped in the self-loathing and despair of anorexia. When her parents visited her at school in October, her weight had dropped to 88 lbs. " She was a mess, a human skeleton," says her mother, Helen, 44,
...in the course of therapy revealed that she had been the victim of a date rape during her New York stay.
After stays in two eating-disorder clinics, Merrick improved but then faltered. On the afternoon of Jan. 7, she promised her therapist and her parents that she would fight the urge to starve herself. But that night she discovered a bottle of antidepressants her mother kept hidden in a closet. When Helen found her at 7 a.m., Merrick was on the floor, barely conscious. She was rushed to the hospital, where her stomach was pumped. "I just can't live like this anymore," she told her mother, slipping in and out of consciousness. "I don't want to be fat. I want to die."
Hours later a series of seizures left her brain-dead, and she was taken off life support. Forty minutes later, as her father, sister Sara, 17, and grand-parents stood by weeping, Merrick Ryan slipped away and died in her mother's arms. " Our daughter was sick," says Tom. "But part of what did her in was living in a society that is constantly telling adolescents that they need to starve themselves in order to look good. It has got to stop."
Doug Altschwager
A 6'1" 240 pounder... - was frustrated because he couldn't lose weight and worried that it would endanger his health.
Doug was groggy after the operation, which didn't seem surprising, and when he arrived home Connie had to help him to the bathroom, where he began gagging. She got him to the couch and he fell asleep, snoring lightly while she stroked his hair. Then he fell silent. "I looked for his pulse," she says. "I couldn't find it. Doug was rushed to Butterworth Hospital and hooked up to life support, but to avail. "He was brain-dead," says Connie, who waited a day their five children by previous marriages could say their farewells.
The cause of death was listed as fat clots due to liposuction.
Rhonda Dober
The devastating end came on Dec. 31, 1997, when Rhonda, 33, died from complications of liposuction. The 5'7" homemaker weighed 220 lbs. And longed for the smaller shape she'd had in 1986 when she met John,
But during a trip home to Vegas to throw a surprise 40th-anniversary party for her parents, Rhonda made a $7,000 payment to board-certified plastic surgeon Dr. Willaim Wyatt. On Christmas Day 1997 she gave her "fat clothes" to her mother, Sandra Sass, 59, saying she'd no longer need them. The next morning, she entered St-Rose Dominican Hospital's outpatient surgery center in Henderson, Nev.
According to medical records, Wyatt removed between six and seven liters of fat from Dober's arms, thighs, knees, back, abdomen and buttocks--a high volume. Emerging from the operation, Rhonda, in agonizing pain, was sent to the hospital for observation. "Why did I do this?" she asked her mother. On Dec. 28 she was released, but at home she felt dizzy and experienced shortness of breath. The she stopped breathing altogether. Her daughter Lauri, then 15, performed CPR until paramedics arrived and took Rhonda to Las Vegas's Desert Springs Hospital. But the following evening doctors broke the news that there was no hope, and on New Year's Eve Rhonda's family agreed to disconnect life support. An autopsy revealed that surgery had caused severe brain swelling and a fatal lack of oxygen.
Lisa Peterson
Lisa, who died last fall at 26.
Her 5'9" daughter...
Push her weight to 180 lbs. Lisa devoted herself to a Jenny Craig diet and gym. The regimen seemed to work. She lost 35 lbs. And in 1998 started dating. "I think she was starting to feel good about herself," says Linda. But in the weeks before her death, Lisa, fearful that she would regain the weight, also began to take an herbal supplement containing the chemical ephedrine, an amphetamine-like stimulant.
John returned to find Meeka standing guard over hus daughter, who lay dead on the floor, a banana in her hand, a cup of tea on the stove and blood running from her mouth. An autopsy showed that Lisa's left coronary artery had collapsed. Found in her system was ephedrine, from a supplement containing ephedra, a federally unregulated herb about which the FDA has received hundreds of reports of illness and which has been linked to more than a dozen deaths.
...noting that ephedrine is know to induce hypertension, which he says can cause the heart condition that took Lisa's Life.
Gaylene Bontrager
In January 1997 Bontrager died at 45 after surgery to repair heart damage her family believes was brought on by the drug. A yo-yo dieter, Bontrager had tried weight-loss plans touted in health magazines, joined Weight Watchers and taken over-the-counter appetite suppressants. Nothing had lasting effect, however, and in April 1996 the 5'8" teacher's aide tipped the scale at 225 lbs. That was when her doctor wrote Bontrager a prescription for the combined drugs fenfluramine and phentermine, known as fen-phen.
"It was working well and really seemed to curb appetite, ... "In just a couple of months she'd lost 25 or 30 pounds. But she'd done that 100 times in our marriage."
In steady decline, Gaulene was diagnosed with heart-valve abnormalities. On Jan 11, 1997, she underwent valve-replacement surgery, but it was too late. In addition to Steve she left behind two sons,
In 1997 he and his sons filed suit against American Home Products for promoting fen-phen without advertising its dangers,
Mon commentaire
Il est très pertinent de leur part d'avoir choisi d'inclure dans leur dossier un cas d'anorexie. En effet, cette préoccupation au sujet l'apparence de son corps ou, plus justement dit, cette haine envers les rondeurs de son corps constitue une maladie mentale. Une maladie mentale qui a une échelle de gravité, dont l'anorexie représente le stade le plus critique. Cette maladie mentale est un mélange de paranoïa, d'obsession/compulsion et d'auto-mutilation induites par l'environnement social.
Il est normal de douter parfois de la beauté de notre corps. Comme, il est normal aussi parfois de penser que des gens nous veulent du mal, de se sentir mal à l'aise dans un ascenseur, de se créer un monde imaginaire, d'être déprimer, etc. En effet, être en santé mentale, c'est vivre avec un peu de l'ensemble des maladies mentales. Une maladie mentale survient quand une de nos tendances s'aggrave plus qu'une autre.
La société provoque la maladie mentale chez les femmes. Ainsi, à force de valoriser la minceur, les femmes développent une haine de leur corps qui peut grandir jusqu'au point d'en devenir une psychose. Dans tous les cas, une femme s'engage dans une diète pour perdre du poids, au moment où le niveau de sa haine commence à devenir psychotique.
Une femme peut s'enliser dans cette maladie mentale jusqu'en devenir anorexique. Pour moi une femme qui décide de subir une liposuccion a un état mental semblable à une anorexie. En d'autres mots, la haine envers elle-même est aussi grande.
Si le taux de mortalité de celles qui subissent une liposuccion est de 1 sur 5000. Il y a 45 mortalités dues à ce charcutage par année aux États-Unis. Soit un autobus voyageur qui tombe dans un ravin chaque année et cela ne font pas la manchette des journaux. Pourquoi?. Combien de décès au Québec ? Proportionnellement, cela serait un décès par année.
En conclusion, pour favoriser une bonne santé mentale chez les femmes, il est essentiel de valoriser la beauté de la rondeur féminine au niveau des médias et de la société en général.
---
Les sujets précédents :
Oprah battling eating disorder
EVERY BODY CAN BECOME FIT
Kirstie's big cover-up - Sitcom star a ball on the beach - after raiding Veronica's Closet!
'ALLY MCBEAL' STAR SAVED FROM ANOREXIA - ... thanks to Camryn Manheim
En Bref - Roseanne Barr
Sally Field's Diet Pill nightmare
Bamboula new-yorkaise
La rondeur dans l'actualité des mois passés